This past month we have been reviewing the
BigIQkids
website at our house as part of the
TOS Homeschool Crew
.
The lessons offered on this site are designed to be used daily for the optimum benefits. Each lesson is about 10-15 minutes long, although I found that some are shorter. At the end of each lesson your child earns a *coin* that can be used to play an educational game. They can use their coin right away or ~like my kids enjoy doing~they can save them up for a later time.
You can read more details on how the lessons work here.
There are also
training videos that you can watch
in case you have questions about how the program works. There is also a page of FAQ's that you can see
here
.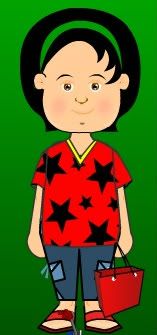 When your child registers they get to create their own *buddy* (an example is seen above) for the site. My kiddos loved this~anything that they get to personalize is always a hit!
You~the parent~can also customize your child's lessons by using the *modify lesson* button within each subject. I used this option often! You can also preview the lessons, in case you aren't sure if they should be modified for your child or not.


The standard math facts drill is 50 problems long on this site, and I would generally reduce that quite a bit for my children. I liked that I was able to choose the percentage of addition/subtraction/multiplication/division problems and the difficulty in each section.



I especially liked that I could customize spelling/vocabulary lists for my children as well. For instance, I took The Princess' spelling words right out of her language arts curriculum and was able to give her extra practice in different ways like word searches, word jumbles, etc.


The US states part of the site was a favorite, with different aspects such as location, capitals and abbreviations. These lessons felt more like playing a game and were definitely fun.
BigIQkids offers their spelling and vocabulary programs and some math and US states for FREE; however, the majority of the math and US states program is part of their premium membership which has a fee. The math facts program is 9.99/month and the US states program is 3.33/month. You can see more details concerning their prices
here
and
here
.
My (and my family's) personal thoughts on this site:
We did like a lot of aspects of it that I have listed above and the kiddos enjoyed playing the games after their lessons. I feel that we will continue to use this program as a supplement to our regular curriculum as needed.
However, I have to say that I did not always find the site as user friendly as I would like. Maybe that was just me.
The kids did find the robotic-style voices on the site to be rather strange, but not disconcerting. They didn't necessarily beg to play on this site, but the games were a good incentive for doing their lessons.
I would definitely recommend it, especially for extra academic drills in needed areas.
Disclaimer:
I received a free premium membership to this site through The Old Schoolhouse Homeschool Crew and BigIQkids in exchange for my honest and unbiased review. The thoughts expressed here are completely my own.
You can
go here
to read what other TOS Homeschool Crew members thought about this site.