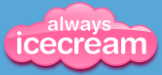 Anything with the name *A
lways Ice Cream
* has to be fun, right? Well, it definitely is in this case.
My daughter and I have recently been reviewing (well, she's just been plain ol' enjoying) this site which is a fun and educational site for girls. The Princess has loved that it's just been for her to play.
On this site your daughter can play educational games to earn*scoops* of ice cream that she can in turn use to decorate her own virtual house and care for her virtual pets.
The games are really fun and include topics such as geography, math, typing, grammar, Bible, basic anatomy, health, foreign languages and much, much more. I loved the wide variety of topics (and that they included Bible!) and how much fun it was to learn on here.
There is also an interactive side to this site--a sort of social networking within the site, if you will--that we didn't really explore. The Princess hasn't really done anything like that online and really hasn't even shown much interest, so I chose not to open that door yet. However,
Always Ice Cream
has great safety standards and that was definitely not a concern for me. You can
read more about their safety standards here
.
My daughter's favorite part of this site has most definitely been *Pet World*. Our mornings begin something like this: she rolls out of bed and comes to me and asks "can I please check on my pets?" Using her earned *scoops* from the games she has acquired quite a few pets and she just loves taking care of them--virtually speaking, of course:) I'm hoping this will be good training in teaching her just how much a real pet will require!
The Princess also loves decorating her very own virtual house. She can even design her own furniture and decor--and sell it to others in her own little shop. So this site even teaches about entrepreneurship.
Another cool aspect of this site is that parents can check to see exactly what their daughter has been doing on the site and can even request an email be sent to them.
Always ice cream has several different
membership plans
ranging from 4.99/month all the way to 99.99/lifetime. Plus there are
free games
that you can try out to see how your daughter likes the site. If you have an elementary-aged girl I know that she would love this site!
So between my daughter and me, we give this site 5 stars! It's a great way to encourage your daughter in fun learning, creativity, even how to run a business.
You can see what other TOS Homeschool Crew members had to say about Always Ice Cream
here
.
Disclaimer:

I received a free membership to this site through The Old Schoolhouse Homeschool Crew and Always Ice Cream in exchange for my honest and unbiased review. The thoughts expressed here are completely my own.