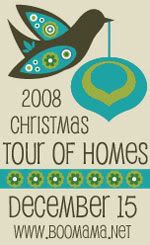 Welcome! It's an open house! BooMama is hosting a lovely Christmas Tour of Homes today, so please join me in the festivities. Come right on in, won't you?
Let's start at the front door...
Here's the entryway hall tree~I love how the Christmas tree is reflecting in the mirror.

And here is the tree.

My vintage Santa keeping watch by the tree~he's looking good for being around 40+ years old!
A little tray table in the living room~I love this little carolers music box.
Here's a detail shot of the garland over the windows.
My large nativity set is here.
The dining table is also in this room.
I love the way the chandelier turned out.
This is a close up of the centerpiece wreath and runner.
My sister made this runner for me last Christmas~I love the toile!!
Here is a little *MERRY CHRISTMAS* banner that The Princess helped me make.
Now let's move into the family room. My little elf (a gift when I was 3 years old) is keeping watch.
The stockings are hung by the chimney and all of the kiddos Christmas toys and books are gathered here. Some of those toys are from when I was a kid. They love them!
We love our collection of Christmas books.
Here is our advent calendar~also from my childhood.
Last year I found this great Christmas card *wreath*. It holds a ton of cards and it's fun to be able to see them.
I love this grouping on the side table here.
These are my vintage Christmas postcards.
Here's a detail shot of my mini tree. This one has all of my mini ornaments and the vintage foil garland that my grandparents used to put on their tree. I remember it well! I've never seen any more, but I'd love to know more about it~if you can tell me anything about this type of vintage garland, leave me a comment!
The coffee table has a grouping of nutcrackers and a little music box with characters from The Nutcracker ballet (I picked up the music box for .50 at a yard sale!).
Our family room bookcases and entertainment cabinet has my Dicken's Village across the tops.
A wall candle holder all decked out for the holidays.
My new (and only) pair of Byers' Choice carolers~thanks, Mom!
Now on to the kitchen! Here is my kitchen sink window. I made these JOY letters last year.
This mini tree has all vegetable and fruit ornaments on it. I was so sad~this year I broke the asparagus. This picture also shows the Susan Branch Christmas cookbook, it is so wonderful!
And here is my snowman cookie jar~isn't he handsome?!
Now for a quick peek down the hall into the bedrooms....
First, Mr. B's Christmas tree and little village.
And next is The Princess' room.
On to the hall bath...
I love this little framed print hanging the bathroom wall.
Here's the master bedroom. This *peace* garland is one of my favorite decorations.
This is what I call my *vintage village*. I love it!! The snowmen are just random ones I've picked up here and there.
The vintage-style feather tree has all antique mini ornaments on it~just little finds while "junking".
Well, there you have the tour! Now let's swing back into the kitchen for a little snack before you go.
Amish Sugar Cookies
(from my friend Sandy)
2 cups sugar
2 cups powdered sugar
2 cups margarine, softened
2 cups cooking oil
4 eggs
9 cups flour
2 tsp. baking soda
2 tsp. cream of tartar
2 tsp. vanilla
~~~~~
Combine sugars, margarine and oil in a mixing bowl. Mix well; add eggs. Mix again. Combine flour, soda, cream of tartar; blend into the sugar mixture. Add vanilla and mix well. Roll dough into small balls and place on cookie sheets. Flatten balls with a cookie stamp or a glass bottom that has been dipped in sugar. Bake at 375F for 10-12 minutes. Makes approximately 10 dozen cookies. I always make these to give away at Christmas because it make such a huge batch and they are absolutely delicious!! Enjoy!
Thanks for dropping by for a visit~don't forget to head over to BooMama's to see more lovely homes decorated for the holidays.