For the past month and a half or so I have had the opportunity to check out
e-Mealz
. I've often heard friends talk about using this meal planning site and have been curious about it.
I've been planning my family's dinners for nearly 4 years now and really do love it. I sometimes say that meal planning saved my domestic life--and it's true! I've always enjoyed cooking, but I would often look at the clock around 4 pm and freak out over what in the world we were going to have for dinner. Then I would frantically start looking through the cabinets and freezer, trying to throw something together, sometimes sending Vince to the store at the last minute to pick up some missing ingredient (spending more than we should). I just knew there had to be a better way. So I started meal planning--with great success!
So since I've been planning meals on my own--using my recipe files, cookbook collection and various websites as resources--for so long, I wondered what it would be like to have someone else plan our meals. This was my chance to find out!
E-Mealz
was founded by a mom, Jane DeLaney, who desperately wanted to create great dinner experiences for her familiy and so developed this simple system to bring order to the chaos of dinner time. Since the creation of this site in 2003,
e-mealz
has received much postitive news coverage and has been featured in magazines such as Southern Living and Redbook.
It's really very easy to sign up for
e-Mealz
~and inexpensive, too, only $5 per month! That's only $1.25 per week! Start by perusing their numerous
meal plans
. These range from *
WalMart for 2
* to *
Gluten Free Any Store
* and all kinds of plans in between. There are sample plans for you to look at for each type of menu. They offer plans for various stores if you prefer to shop at only one and they plan those menus around the weekly specials so these are very budget-friendly.
I chose the *
Any Store
* plan, because I shop at up to three different stores: mostly Aldi and WalMart, but occasionally at Kroger, too. I like to keep my options open, I guess:) So each week on Wednesday I log into e-mealz and download my new menu plan
(t
he day you download your plan is determined by the plan you choose)
. It comes complete with recipes and a shopping list and looks something like this: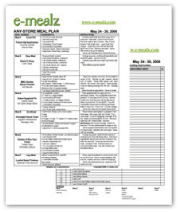 The menus that I have received each week nearly always includes at least one slow cooker recipe and one "quick"recipe (usually a type of sandwich). There is very good variety in the menu plans.
I must admit that I did tweak the menus to fit my family's tastes--I would imagine that's not uncommon since every family is different. There were some recipes that sounded great to me, but I knew that my family wouldn't eat them (at least not the kiddos), so I didn't want to purchase ingredients for those recipes. Instead I would substitute that meal plan with one of my own. Also, in an effort to be budget-conscious, I would sometimes tweak the meat that a recipe called for in case I already had something else that would work.
We did find some great new recipes that we really enjoyed and that's always nice. Some of our favorites were: Hawaiian Bacon Pizza, Roasted Turkey (slow cooker), Italian Sandwiches, Chicken L'Orange and Cheddar Broccoli Quiche. The last two are pictured below and I thought I would share those recipes with you:
3-4 boneless chicken breasts, cut into strips
(non-stick spray, 1 tsp sesame oil, 1 tsp vegetable oil)
7 oz. can pineapple tidbits, drained
8 oz. can sliced water chestnuts, drained
12 oz. stir fry vegetable medley
6 oz. orange juice
1-1/2 Tbsp soy sauce, 1-1/2 Tbsp cornstarch
2-3 pkgs. ramen noodles, chicken flavor
*****
Lightly brown chicken pieces in large sprayed skillet on med-hi heat. Remove chicken & set aside. Add the sesame and vegetable oils to skillet. Stir fry pineapple, water chestnuts & veggies for 3-5 min. Combine orange juice, soy sauce, then whisk in cornstarch. Add sauce to skillet & cook on low for 3 min or until sauce thickens. Add chicken to mix. Serve with noodles--prepare as package directs, then drain.
10 eggs
1 pint whipping cream
1 tsp salt
16 oz bag frozen chopped broccoli
2 cups shredded cheddar
2 frozen deep dish pie crusts
*****
In blender (or a bowl with a whisk), blend eggs, whipping cream and salt. Steam and drain broccoli. Divide broccoli and cheese evenly into each piecrust. Pour egg mixture over each. Bake @ 350F for 1 hour or until knife inserted in center comes out clean.
(Not health food, obviously, but some of the best quiche I've ever had!)
Personally, I think
e-Mealz
is an awesome site. It's highly recommended by Dave Ramsey, too. It's perfect for people who don't necessarily enjoy cooking/meal planning, don't have time to meal plan, need to stay on a budgeted plan, need a certain diet plan, or just need some new inspiration for their meals at home. Even though I am an experienced menu planner, I was frankly in something of a slump and this has been a great source of dinner inspiration for me.
So head over to
e-Mealz.com
and find out how you can transform your family dinner time!
Disclaimer: I received a free 3-month subscription through The Old Schoolhouse Homeschool Crew and e-mealz.com in exchange for my honest and unbiased review.